| | |
| --- | --- |
| Title | Bio-Normalizer: A New Generation Antioxidant Drug |
| Year | 1995 |
| Author | I.B. Afanas'ev; L.G. Korkina |
| Publisher | International Workshop on Nutritional Approach to Aging and Disease |
---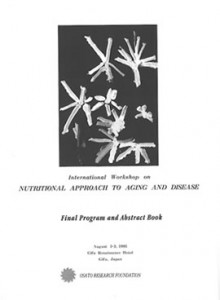 International Workshop on
NUTRITIONAL APPROACH TO AGING AND DISEASE
Final Program and Abstract Book
August 1-3, 1995
Gifu Renaissance Hotel Gifu, Japan
OSATO RESEARCH FOUNDATION
---
BIO-NORMALIZER: A NEW GENERATION ANTIOXIDANT DRUG
Igor Afanas'ev and Ludmila Korkina
Vitamin Research Institute and Russian Institute of Pediatric Hematology
Moscow, Russia
Antioxidants form a wide group of natural and synthetic compounds capable of scavenging free radicals. However, only a small number of them is of real value as perspective pharmacological agents due to various adverse side effects. Therefore, the search for nontoxic, preferably natural compounds is a major trend in the updated studies directed on developing new drugs and food supplementations useful for the treatment of various diseases and those possessing anti-aging properties.
Our studies on Bio-Normalizer (BN), a natural Japanese food supplementation prepared by the fermentation of Carica papaya showed BN possesses unique regulatory properties together with typical free radical scavenging activity. BN inhibited hydroxyl radical and superoxide production by the Fenton reaction and xanthine oxidase as well as the production of active oxygen species by the H202-HRP and H202-NaClO systems. At the same time, BN affected differently the superoxide and hydroxyl radical production by rat peritoneal macrophages: it inhibited luminal-amplified chemiluminescence (CL), which can be considered as an assay for HO formation, and stimulated lucigenin-amplified CL (the test for superoxide formation). We proposed that this phenomenon is a molecular basis of BN normalizing activity since the optimal level of superoxide production in the blood and tissue is thought to be the important physiological factor while the suppression of harmful hydroxyl radicals is responsible for BN
antioxidative activity.