| | |
| --- | --- |
| Title | Effect of Bio-Catalyzer α.ρ No.11 Supplementation on the Cardiac Ischemia-Reperfusion Damage in Rat Heart |
| Year | 1995 |
| Author | N. Haramaki; L. Marcocci; R. D'Anna; L. J. Yan; L. Packer |
| Publisher | Oxygen Club of California Annual Meeting, |
---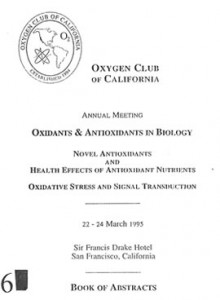 OXYGEN CLUB OF CALIFORNIA ANNUAL MEETING
OXIDANTS & ANTIOXIDANTS IN BIOLOGY NOVEL ANTIOXIDANTS
AND
HEALTH EFFECTS OF ANTIOXIDANT NUTRIENTS OXIDATIVE STRESS AND SIGNAL TRANSDUCTION
22 – 24 March 1995
Sir Francis Drake Hotel
San Francisco, California
BOOK OF ABSTRACTS
---
EFFECT OF BIO-CATALYZER α•ρ No. 11 SUPPLEMENTATION ON THE
CARDIAC ISCHEMIA-REPERFUSION DAMAGE IN RAT HEART
Nobuya Haramaki, Lucia Marcocci, Rossella D' Anna,
Liang-Jun Yan & Lester Packer
Department of Molecular & Cell Biology,
University of California, Berkeley, CA 94720-3200
Bio-Catalyzer α • p No.ll (Bio-Normalizer), a product of yeast fermentation of Carica papaya Linn, Pennisetum pupureum Schum., and Sechium edule Swartz, is a natural health food in Japan which has recently been reported to possess antioxidant properties. In the present study, the effect of Bio-Normalizer on cardiac ischemia-reperfusion injury of the isolated rat heart was investigated. Bio-Normalizer was supplemented to rats in the drinking water at a concentration of 0.1% (w/v) for 6 weeks and hearts are perfused using a Langendorff technique. During reperfusion following 40 min of ischemia, the hearts isolated from the supplemented animals showed significantly lower level of lactate dehydrogenase leakage compared to those of control rats. This suggests that cardiac tissue membrane were protected against ischemia-reperfusion damage. To further characterize the protective effect of Bio-Normalizer, we studied the susceptibility of cardiac tissue homogenate to the oxidative stress generated by the lipophilic azo-initiator of peroxyl radical, AMVN. A significantly lower value of TBARS and protein carbonyl content were observed in Bio-Normalizer supplemented as compared to those in control hearts. These results suggest that Bio-Normalizer supplementation decreases the susceptibility to the oxidations of tissue lipids and proteins. Hence, an antioxidant action may be involved in the cardioprotection of Bio-Normalizer against ischemia-reperfusion injury.