| | |
| --- | --- |
| Title | The Regulatory Role of Reactive Oxygen Species in Gene Expression and Protein Synthesis. The Effect of Antioxidants and Free Radical Modulators |
| Year | 1997 |
| Author | L.G. Korkina |
| Publisher | 25th Anniversary FAOBMB Symposium |
---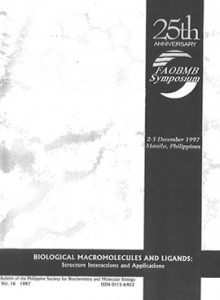 25th ANIVERSARRY FAOBMB Symposium 
2-5 December 1997 Manila, Philippines
BIOLOGICAL MACROMOLECULES AND LIGANDS:
Structure Interactions and Applications
Bulletin of the Philippines Society of Biochemistry and Molecular Biology
VOL. 16 1997                                                                                                          ISSN 0115-6403
---
FAOBMB 25th Anniversary Symposium
Biological Macromolecules and Ligands: Structure Interactions and Applications University of the Philippines Diliman Quezon City, Philippines
2-5 December 1997
---
A 19
THE REGULATORY ROLE OF REACTIVE OXYGEN SPECIES IN GENE EXPRESSION AND PROTEIN SYNTHESIS.
THE EFFECTS OF ANTIOXIDANTS AND FREE RADICAL
MODULATORS
Korkina LG.
Laboratory of Biochemistry and Molecular Biology, Russian State Medical University, Moscow, Russia
   In the last decade numerous studies have been going on to elucidate the role of reactive oxygen species (ROS) in the regulation of protein synthesis, in the functioning and damaging to structural proteins, as well as in the enzyme activity. A basic knowledge in the field allows developing new antioxidants and ROS modulators with potency to prevent or/and ameliorate the ROS-dependent impairment of protein homeostasis. Thus, Nacetylcystein (NAC) was found to be an effective inhibitor of ROS-induced cytoplasmic transcriptional factors NFKB and AP1. NAC can also suppress mRNA and protein synthesis for some oxidative stress-induced proteins. Contrary to that, Bio-Normalizer (BN, a fermented product of Carica papaya). known as free radical modulator, is the inducer of cytokine (TNF-α and IL-1) synthesis. It was also shown that BN was the activator of the inducible nitric oxide synthase (iNOS) in the in vitro and ex vivo conditions. BN caused the INOS induction and increased NO production by both circulating blood cells and tissue macrophages of diabetic patients. Though the nature of inhibitory and stimulatory activity of different antioxidants and ROS-modulators remains unclear, these effects may explain, at least partly, the clinical relevance of such compounds.