| | |
| --- | --- |
| Title | Effect of Body Weight Reduction on Patients with Chronic Respiratory Failure Due to Pulmonary |
| Year | 1995 |
| Author | Y. Masahiro |
| Publisher | International Workshop on Nutritional Approach to Aging and Disease |
---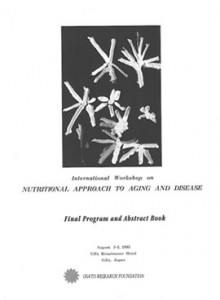 International Workshop on
NUTRITIONAL APPROACH TO AGING AND DISEASE
Final Program and Abstract Book
August 1-3, 1995
Gifu Renaissance Hotel
Gifu, Japan
---
EFFECT OF BODY WEIGHT REDUCTION ON PATIENTS WITH CHRONIC RESPIRATORY FAILURE
DUE TO PULMONARY TUBERCULOSIS; A PRELIMINARY CLINICAL TRIAL
YOSHIKAWA Masahiro,
Research Institute of Tuberculosis, Japan Anti-tuberculosis Association, Clinical Research Division, Tokyo, Japan
Background:  Chronic respiratory failure (CRF) due to pulmonary tuberculosis is characterized by recurrent exacerbation and progressive deterioration. Intensive cares including mechanical ventilation are frequently required. The majority of CRF patients are demonstrated underweight and low performance status at end stage. I investigated whether weight reduction was advantageous to manage CRF patients and prevent exacerbation. Methods: Eighteen CRF patients (G-1; m=13, f=5, 67.4 yr., 45.lkg), who entered or had been in a national chest hospital among 1990-1993, were selected. After serious illness phase, they were encouraged to reduce body weight by about 10% less than that of admission, regardless of anthropometric indices. I also examined medical records of 17 patients, whose age and sex were approximately matched to G-1 and who had entered another chest hospital at least 5 times for these 10 years (G-2; m=l2, f=5, 65.9 yr., 44.3kg). Moreover, 4 patients of G1 and 7 CRF with hypoxemia (G-3; lung cancer=2, lung fibrosis=2, active mycobacteriosis=3) were selected to examine the effect of Bio-Normalizer (BN) on clinical symptoms.
Results: In G-1, after discharge, twelve patients were managed in other clinical settings. Of which 8 patients died due to exacerbation within 3 years, two patients entered hospitals more than 1 time. The other 2 patients lived at home free from exacerbation. All the rest 6 patients who kept visiting my outpatients periodically showed improvement of pulmonary symptoms, signs and level of PaC02 to various degrees. None of the 8 patients who observed weight reduction entered hospitals due to exacerbation since then. Three of G-1 outpatients and six of G-3 who took BN uninterruptedly showed various improvement of symptoms, especially uncomfortable sensation about dyspnea and intractable cough in lung fibrosis and cancer. In G-2, almost all patients variously showed pulmonary symptoms and signs, weight gains, peripheral edema, elevated level of PaC02, increased cardiac and pulmonary artery indices on chest X-rays and ECG abnormalities, when compared with that of previous discharge on each admission. Nine patients died by 1994 from exacerbation.
Conclusion: These results suggest that body weight reduction is one of the beneficial interventions to manage CRF patients and prevent them from exacerbation harmlessly, and that BN might variously ameliorate pulmonary manifestations of CRF patients, especially those with hypoxemia.